Saint Seiya Awakening: Knights of the Zodiac in App Annie's Top 5 Breakout Games
09/13/2022
The App Annie State of Mobile Report is the go-to market guide for app analytics and market data – covering the entire app ecosystem from e-commerce through to streaming. App Annie's intelligence reports provide detailed app analytics across download, revenue and demographics.
The recently published 2020 report included the 'Breakout Games' category –highlighting the most popular games in the previous year based on year-over-year growth in iOS & Google Play consumer spend. YOOZOO Games' mobile RPG Saint Seiya Awakening: Knights of the Zodiac was listed as number 4 in Brazil and number 5 in Germany in the Breakout Games category. Officially authorized by Masami Kurumada's studio, the title was released last year by YOOZOO alongside developer Tencent Games.
Considering Saint Seiya Awakening: Knights of the Zodiac was only released in the second half of 2019, this industry recognition highlights the huge growth YOOZOO Games is currently experiencing in overseas markets.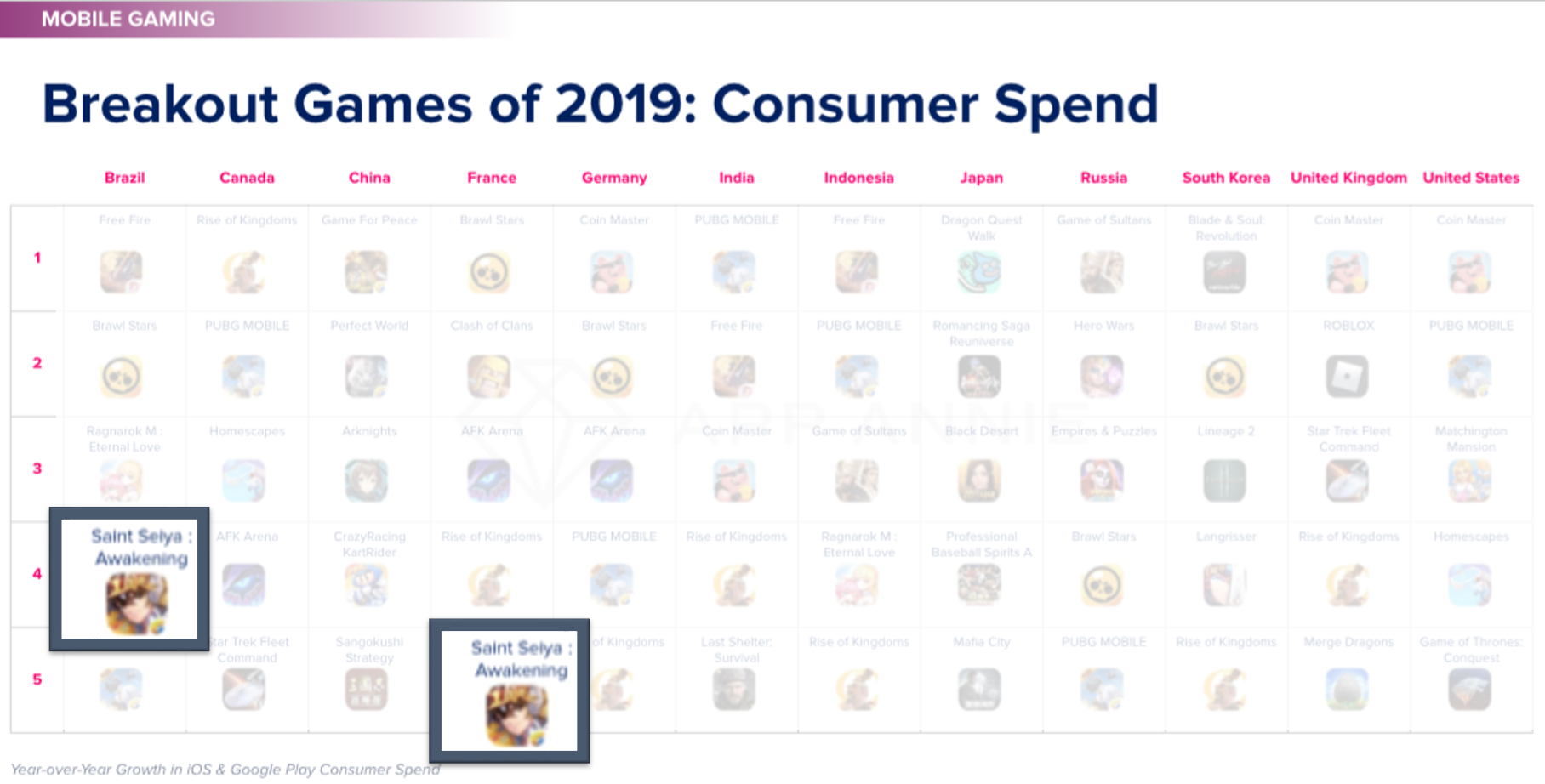 Liu Wanqin, Vice President of Overseas Publishing for YOOZOO Games said "Our overseas publishing is built on three pillars: releasing globally renowned titles, introducing Asian hits to the Western market, and restoring the classic titles."
"This is exactly what we've done with Saint Seiya Awakening: Knights of the Zodiac. The manga series is a widely-loved childhood classic in Japan, with a cult-following around the world. With Saint Seiya Awakening: Knights of the Zodiac, we are bringing the popular anime to our Western market players, offering stunning gameplay".
The game plays out with action-packed, visually immersive 3D graphics which closely follow the original. Players must take on the role of a saint, fighting in combat to defend the Goddess Athena and progress through the storyline.