YOOZOO and Huawei Cloud Showcase First Products of Cooperation -1080P Cloud Gaming
12/09/2019
On December 4th, the 2019 Huawei Cloud Internet Summit kicked off in Shanghai. Themed "Shanghai, an Extraordinary Choice", the summit brought together internet industry leaders to discuss 5G and the opportunities it has brought in 2019 - the year that marks the beginning of 5G. YOOZOO CTO Wu Tao and Huawei Cloud China President Hong Fangming participated in the signing ceremony for cooperation on joint-powered cloud games, and for the first time demonstrated the fruits of the two company's cooperation, namely the cloud versions of Junior Three Kingdoms 2 and Era of Celestials.
As a guest to the summit, YOOZOO CTO Wu Tao gave a speech titled "5G and Cloud Gaming to Spearhead an Experience Evolution", where he shared YOOZOO's perspective as a game developer on "5G + Cloud Computing + AI".
2019 witnessed the commercial deployment of 5G in China, spurred on by demand for the technology as well as policy support. 5G stands poised to redefine our very way of living, turbocharging the development of AI, IoT, cloud computing and cloud gaming; accelerating the fusion between the physical world and the virtual world. "The gaming industry is constantly exploring ways of leveraging technological progress to continuously improve the in-game experience." Wu Tao said.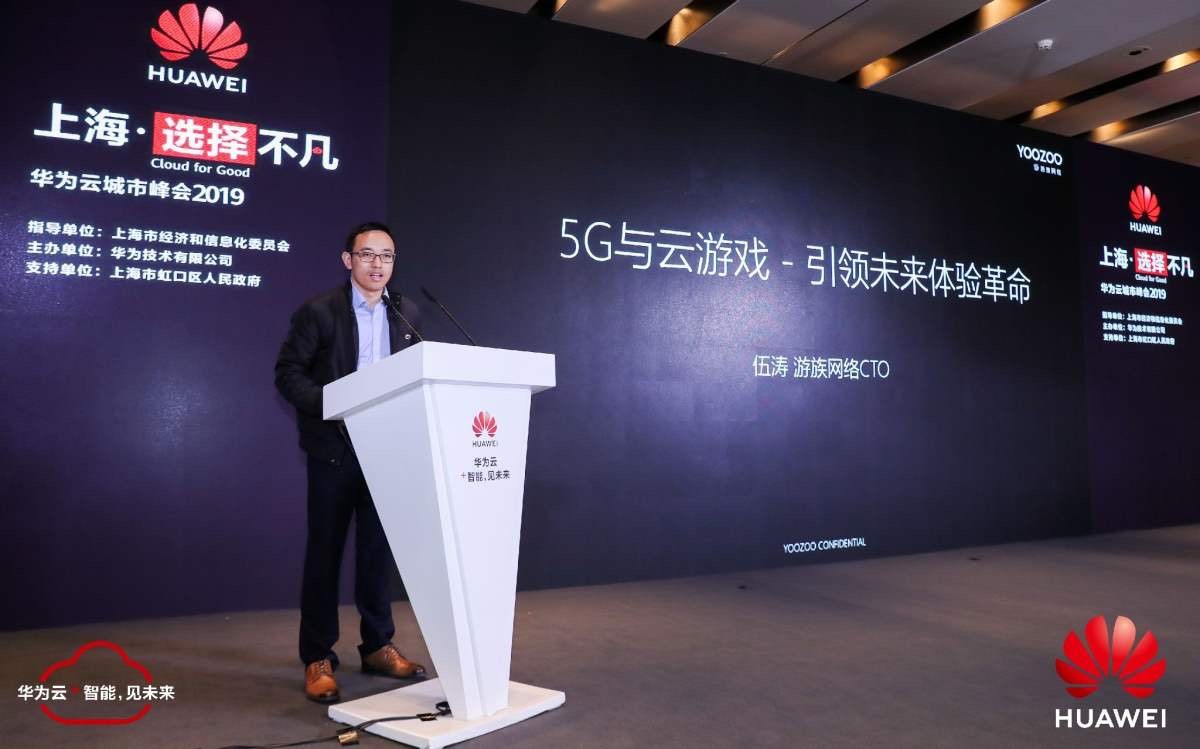 YOOZOO CTO Wu Tao giving a speech on the potential of 5G
Wu Tao believes that cloud gaming's revolutionary nature lies in the fact that it enables on-demand play, cross-device interaction, superior graphics quality and game-movie integration. As a game developer positioned at the forefront of technology, YOOZOO has made investment in four cutting-edge areas including AI, cloud gaming, VR/AR/MR and blockchain, and is partnering with Huawei on core technologies such as virtualization, cloud rendering, audio/video and high-quality network.
At the event, the cloud versions of YOOZOO's two recently-launched games, Junior Three Kingdoms 2 and Era of Celestials, were live-demonstrated at 720P 30FPS and 1080P 60FPS respectively. The games ran smoothly with excellent graphic quality, drawing praise from the audience.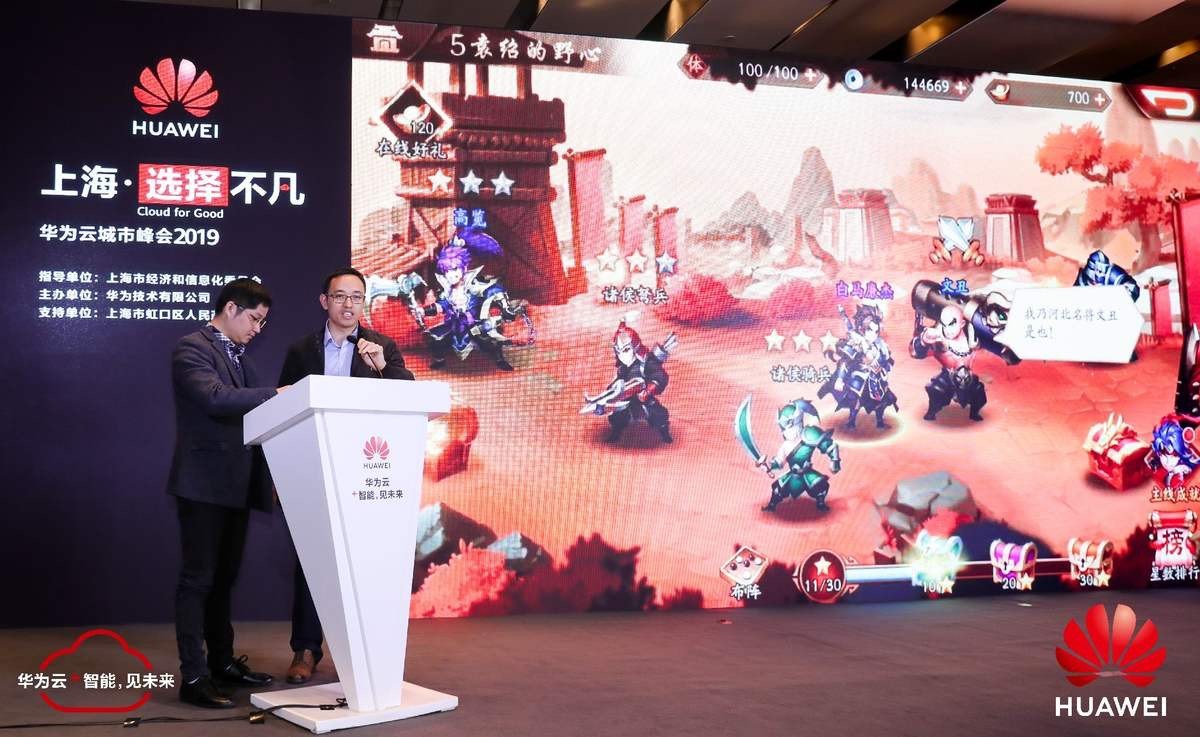 YOOZOO CTO Wu Tao live-demonstrating cloud games
Toward the end of the summit, the signing ceremony for cooperation on joint-powered cloud games was held in the presence of YOOZOO CTO Wu Tao, Huawei Cloud China President Hong Fangming, YOOZOO Cloud Games head He Yufu, and Huawei Shanghai Corporate Median and Entertainment Business Development Director Li Zekun.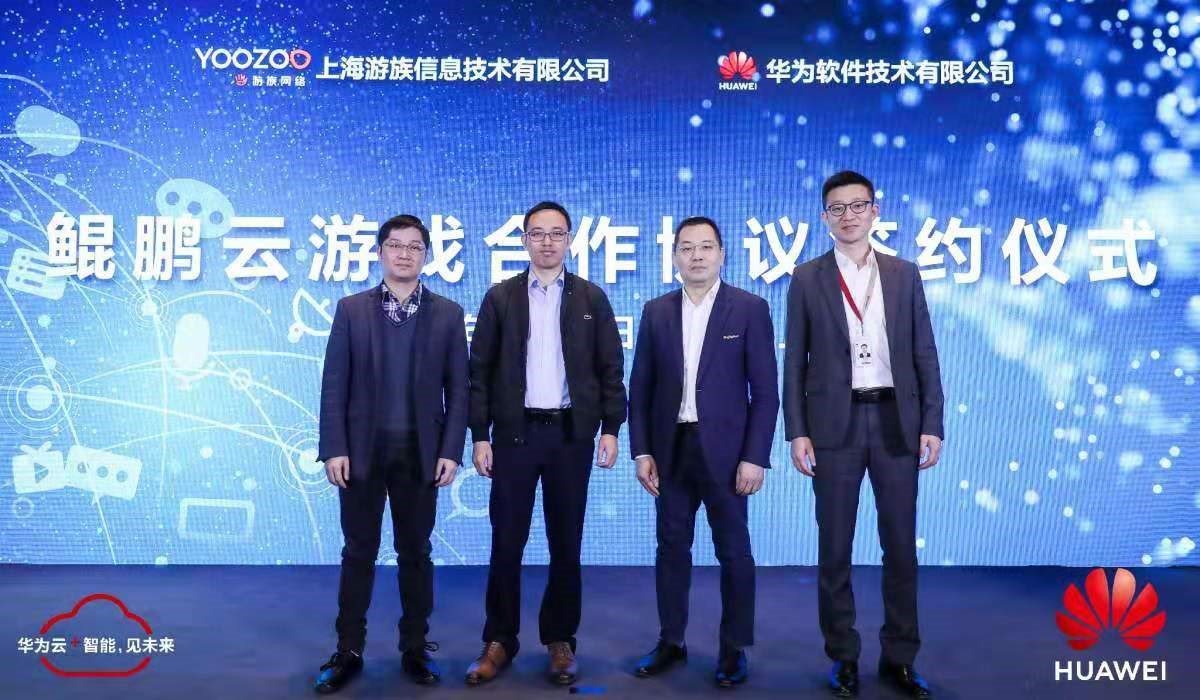 Signing ceremony between Huawei and YOOZOO
YOOZOO and Huawei maintain a long-term partnership where YOOZOO can take advantage of Huawei's cloud gaming platform to stay ahead of gaming trends in the 5G era and to revolutionize player experience. Under the partnership agreement, the two companies will endeavor to build better user experience in areas of 5G, cloud computing and gaming.
   We live in an intelligent world where cross-industry cooperation has become an imperative. This is exemplified by the Huawei-YOOZOO partnership. By pooling together their strengths and resources, the two companies stand ready to disrupt the entire gaming industry.