YOOZOO wins "Innovative Games Company of the Year"
11/18/2019
From November 12th to 14th, the second annual "Future Global Entertainment Summit" hosted by Sina Games and MGS Macau Leisure Technology was held at the Venetian Hotel in Macau. This event incorporated the 2019 Game Industry Innovation Awards. With outstanding performance in product innovation, concept innovation and social contribution in 2019, YOOZOO was awarded the title of "Innovative Games Company of the Year".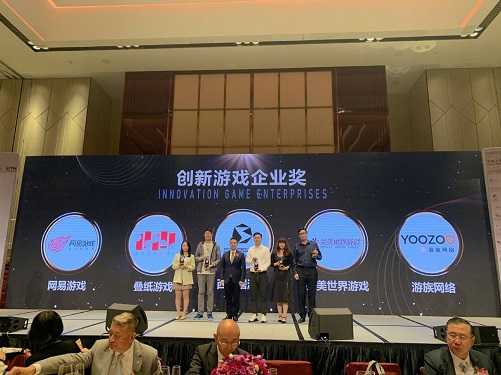 In 2019, under the 3+X strategy, YOOZOO continued to strengthen its core business advantages through product R&D and refined operations. In the SLG field, Game of Thrones Winter is Coming™, a real-time strategy PC browser game was officially licensed by Warner Bros. Interactive Entertainment under license from HBO®. Also in 2019, the popular RPG Saint Seiya Awakening: Knights of the Zodiac was released worldwide. Officially licensed by Masami Kurumada's Studio, the game has taken the top spot on a number of best-selling RPG ranking tables worldwide.

As a listed company, YOOZOO maintains practicing social responsibility as a key value, insisting on creating quality products, which inherit and spread traditional cultural values, advocate positive values, and participate in building a healthy and sustainable industrial ecology.
YOOZOO makes full use of the resource advantages in games to create educational-based game products. In the first half of this year, the eco-friendly WeChat game "Garbage Points" was launched in China, using games as a way to spread knowledge about garbage classification and sorting in China, using a more relaxed and entertaining way. Enhancing the public's awareness of environmental protection, the game showed the garbage recycling process from start to finish, with the end result being the re-birth of these materials in new products, giving meaning and a sense of accomplishment to garbage sorting. Additionally, YOOZOO also donated 43,540 meals to the World Food Programme this year through the #GTarcadeHungerHeroes campaign.

In the future, YOOZOO will continue to keep spreading positive values as a mission, creating global entertainment classics, and continue to adhere to the social responsibility and enterprise development, and strive to bring better services to users and value for the society.

* * * * * * * * * *
About YOOZOO Games
YOOZOO Games is a global entertainment company specializing in game development and distribution. The company is headquartered in Shanghai with offices in London, Berlin, Hong Kong, Singapore, and other major cities. Since its founding in 2009, YOOZOO has launched a multitude of highly successful products such as Game of Thrones Winter is Coming, Legacy of Discord – Furious Wings and League of Angels, and has forged a strong global distribution network.
Official Site http://global.yoozoo.com/
Global Game Portal https://www.gtarcade.com/
LinkedIn linkedin.com/company/yoozoogames