YOOZOO Games Establishes Branch in India Another Move to Expand Its Global Reach
03/07/2017
Today, the Indian newspaper The Economic Times reported YOOZOO Games' opening of a branch office in Pune, India. The Indian branch will help YOOZOO Games enter the Indian market, further expanding the company's global reach.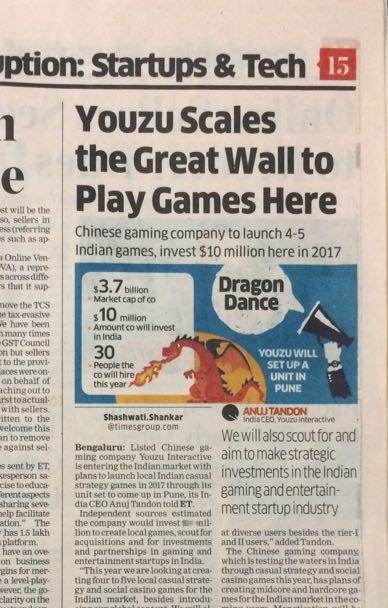 The Economic Times report on YOOZOO Games' Indian branch

The report noted that Anuj Tandon, who formerly worked in mobile game publishing and marketing for Nazara Games, one of India's largest game publishers, will serve as the CEO of the Indian branch of YOOZOO Games. During an interview, Tandon remarked that, in addition to importing games, the Indian branch plans to develop four to five recreational strategy games and social entertainment games, and will bring in more RPGs and mid-intensity strategy games after the market is gradually matured. Although Tandon did not reveal specifics of the company's investment plans to the media, he remarked that he would seek opportunities for investment cooperation with Indian gaming and entertainment startups.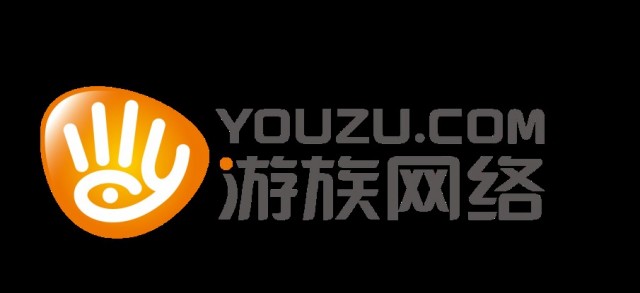 YOOZOO Games

As one of China's leading interactive entertainment providers, YOOZOO Games has always been a pioneer of global strategy, with overseas revenues matching and exceeding domestic revenues. The company has also established a firm publishing foothold in Southeast Asia, Europe, and America. YOOZOO Games' products have received repeated affirmation from abroad. Legacy of Discord-Furious Wings has received global recommendation from both Apple and Google (Apple recommended the product 194 times within one month), and topped the best-seller lists in over twenty countries. It is currently YOOZOO Games' highest grossing ARPG overseas. The League of Angels series has won major awards, such as Facebook's best browser game of the year, and best new game of the year. According to reports, YOOZOO Games currently has over 800 million customers worldwide, publishes its products in over 150 countries and regions, and is capable of delivering one-stop global publishing services. In 2016, YOOZOO Games acquired famous German game developer Bigpoint, which had laid a solid R&D foundation and powerful market penetration in Europe with its over ten years of experience that will help YOOZOO Games accomplish its mission of further expanding into the European market.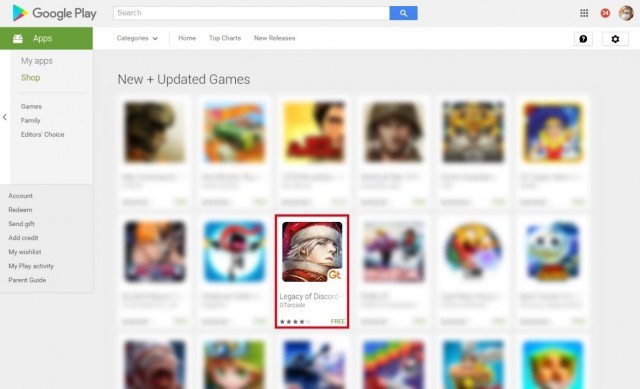 Legacy of Discord-Furious Wings receives Google global recommendation

In a recent interview, YOOZOO Games COO Chen Libiao remarked that, "globalization is YOOZOO Games' unswerving development strategy. In the next step, we will continue expanding into emerging markets in Russia, South America, India, and the Middle East, while maintaining our advantages in Southeast Asia, North America, and Europe." It is clear that YOOZOO Games' plans for globalization are steadily progressing, and that the company's expansion into India has been a long time coming. As a critical emerging market, India's smart phone market saturation rate currently sits at a mere 17%. However, the country's immense population and last year's shipment volume of 109.1 million indicates that the country's mobile game market holds vast potential. YOOZOO Games' expansion into India is a sign of the company's farsighted confidence in the Indian market. The opening and business development of YOOZOO Games' Indian branch has added another coordinate to the company's global layout. Slowly but surely, the path to globalization continues to take shape.