YOOZOO Games Secures Game Production Rights for Game of Thrones
07/29/2017
On July 29th, 2017, YOOZOO Games (SZ.002174) held a press conference at Shanghai's Pudong Kerry Centre to officially announce a new strategic partnership with Warner Brothers Interactive Entertainment (WBIE). With the assistance of HBO Global Licensing, the two parties are cooperating to release a mobile game adaptation of the hit TV series Game of Thrones in China.
The genuine Game of Thrones game website: got.youzu.com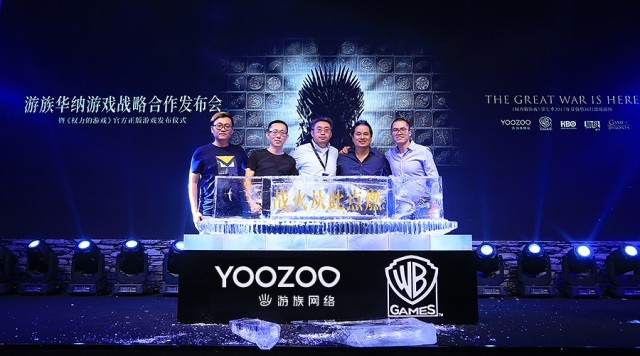 YOOZOO Games and WBIE strategic partnership ceremony
YOOZOO Games' Game of Thrones mobile game is currently the only genuine version of licensed Game of Thrones mobile strategy game in China.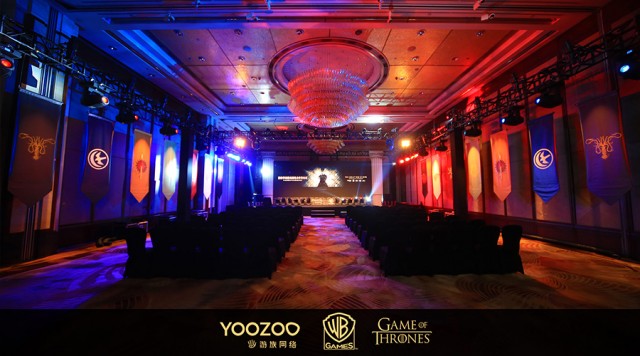 YOOZOO Games and WBIE strategic partnership press conference main stage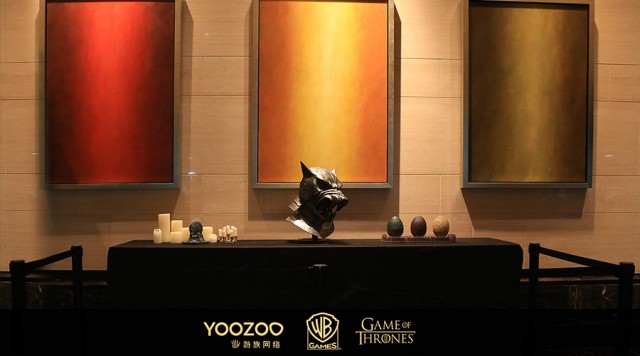 YOOZOO Games and WBIE strategic partnership press conference prop display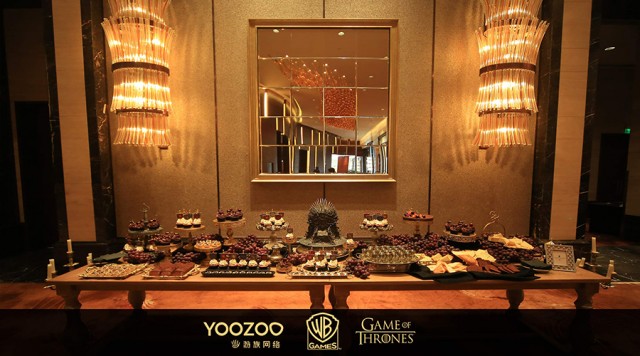 YOOZOO Games and WBIE strategic partnership press conference tea break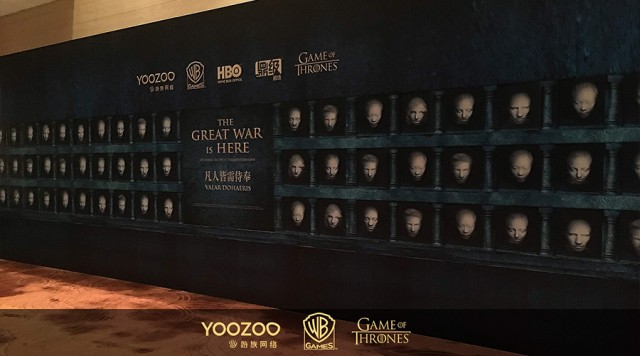 YOOZOO Games and WBIE strategic partnership press conference Many-Faced wall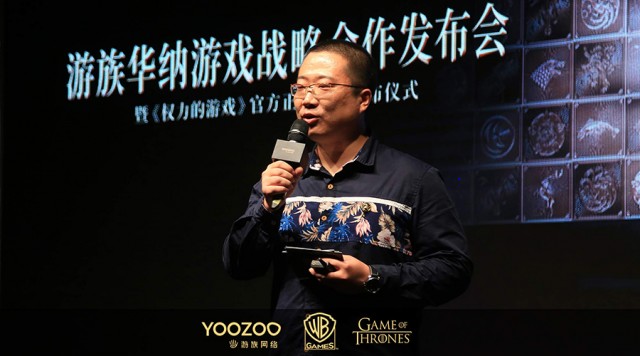 YOOZOO Games and WBIE strategic partnership press conference host Gudabaihua

Game of Thrones is adapted from the first installment of George RR Martin's epic medieval fantasy series that has taken the world by storm, A Song of Ice and Fire. The TV series has grown wildly popular since it began airing in 2011, and even gathered a broad fan base in China. To date, Game of Thrones has earned 38 of the 108 Emmies for which it was nominated, setting a new historical precedent for the awards ceremony. The show's seventh season officially returned to screens on July 16, 2017.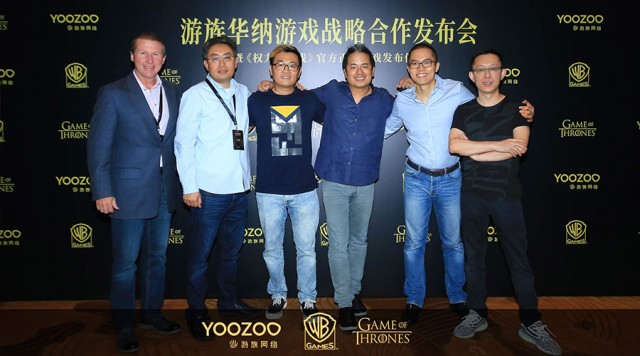 Group photo of YOOZOO Games and WBIE executives

Screen productions and gaming continue to develop a closer relationship. It becomes commonplace for both mediums to interact with each other as they develop overlapping products based on the same original IP rights. This trend is soon expected to carry the Chinese gaming industry into an era of explosive growth. Reports from data analysis company Newzoo state that the Chinese gaming market value grew to USD 24.4 billion in 2016, making it the largest gaming market in the world.
YOOZOO Games was the first company in China to introduce the film-game crossover model, and excels at delivering a multi-dimensional entertainment experience through a single IP, effectively and precisely linking fans by creating a connection between file & drama and gaming, to deliver optimal value. At the press conference, YOOZOO Games COO Chen Libiao remarked that "excellent IP rights have become the core of the whole entertainment industry. IPs of exceptionally high quality like Game of Thrones demand assembly of the world's best resources and companies." Time Warner's HBO network has adapted Game of Thrones into the world's most popular fantasy TV series, and YOOZOO Games has further developed this into a game that unfurls this fantastic world right before fans' eyes.
"Collaborating with a publisher of the YOOZOO Games' scale is a guaranteed success. YOOZOO Games' team deeply understands the Asian gaming market and how to appeal to the target users while remaining faithful to the original IP." WBIE Global Studios and Production Vice President Steven Chiang said, "we are looking forward to cooperating with YOOZOO Games to bring fans in the Greater China region an authentic Game of Thrones gaming experience."


WBIE Overview:
WBIE is part of the Warner Brothers Family Entertainment Group, a global leader in the development, publishing, licensing, and retail of entertainment content which includes self-developed and third-party games for hosts, hand-held consoles, mobile phones, and PC. The WBIE team includes a number of world-renowned game labs, such as TT Games, Rocksteady Studios, and NetherRealm Studios, which have published several widely-acclaimed game series such as LEGO, Batman: Arkham, Mortal Kombat, and Injustice.

HBO Global Licensing Overview:
HBO Global Licensing sells official licenses of the development and marketing of products inspired by award-winning HBO series. HBO has licensed development rights for several of its most popular TV series, including Game of Thrones, Silicon Valley, The Sopranos, Sex and the City, True Blood, and Entourage. Product licenses are granted for a wide variety of industries, including fashion, jewelry, digital and CD recordings, replica props and costumes, games, books, and drinks. The company has also cooperated with major designer brands to release exclusive product series. Fans can purchase these products from retailers across the US or via HBO's online store (http://store.hbo.com), or visit HBO's new retail center on 42 Main Street and 6th Avenue in New York City. HBO Global Licensing products also retail in Europe (www.hboshopeu.com), Asia, and Australia.

YOOZOO Games Co., Ltd. (SZ.002174) Overview:
Established in 2009, YOOZOO Games Co., Ltd. (SZ.002174) is a leading global provider of interactive entertainment. It has developed several games that have grossed over RMB 100 million, including Junior Three Kingdoms, Thirty-Six Stratagems, The Great Emperor, League of Angels, and The Lost Tomb. Of these, games in the League of Angels series were awarded "Best Game of the Year" by Facebook in 2014 and 2016. The mobile game Legacy of Discord-Furious Wings, which drew from Western fantasy themes, was a staggering success, making the ten best seller lists in 104 countries and regions. It currently boasts the highest overseas market income among Chinese-developed ARPGs. Newly-released financial reports identified YOOZOO Games' 2016 earnings as RMB 2.53 billion (about USD 367.80 million); RMB 1.282 billion (about USD 186.40 million) of which was generated from mobile game sales, a year-on-year increase of 77.86%.

The Game of Thrones TV series and artwork are copyright of HBO 2017. HBO and related trademarks are copyright of HBO, licensed by WBIE.