1 Million Pre-registration Reached, Echocalypse Available for Download
10/24/2022
Gtarcade's first eastern-style adventure MMORPG game, Time Raiders, is now open for public beta. Here, you will explore the huge eastern underground world as an explorer, feel the 3D free perspective and immersive adventure world. Are you ready to begin a brand new adventure
Kemono Girl Godslaying RPG, Apocalypse World Adventure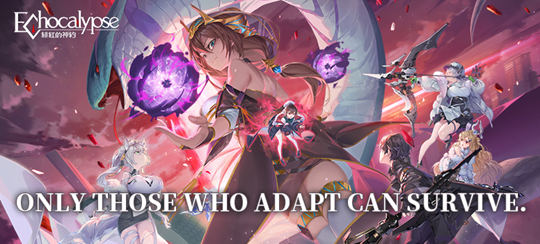 YOOZOO GAMES has recently announced their Kemono Girl Godslaying RPG, Echocalypse, is now available for download on both iOS and Android platforms. Published by Gtarcade, Super VA line up for an immersive experience, and a professional script team weaves a grand tale in an apocalyptic world. In Echocalypse, you will become an Awakener and be entrusted with a great mission, exploring an apocalypse world, collecting magic power, and recruiting Kemono girls to fight against the second Calamity and bring the world back to its original order.
Awake your beast inside.
Only Cases can survive in the apocalypse world?! Kemono loli, Bossy Onee-san, Tsundere Ojou-san... Kemono girls with different personalities and different background stories turn into [Animal Cases] to bring you an exciting visual experience. From different factions and with different skills, they represent the last hope humans have, waiting for you to wake them up. Tons of surprises await you on the path of helping the Kemono girls develop. Are you ready to embark on this grand apocalypse journey and fight alongside them?
Only those who adapt can survive.
In Echocalypse, your strategic ability will also be put to the test. Recruit and upgrade your Kemono girls, build a proper team, and bring out the maximum strength of them to defeat powerful foes while enjoying the game through simple turn-based card battles.
Battle and leisure are not mutually exclusive!
• Take good care of your Kemono girls. More interaction with them grants a higher chance of triggering special bonus content.
• In the free Home Building system with exquisite furnishings and decorations, you can build your own base in the apocalypse world for the Kemono girls and yourself.
• Various social features allow you to dominate the apocalypse world together with your fellow Awakeners.
The pre-registration amount has hit 1 million, and all deluxe pre-registration gift packs are now unlocked. Join the game now to claim bountiful launch rewards. Log in for 14 consecutive days to obtain valuable items, including SSR Cases, skins, Iridimorphites, and SSR Artifacts. Log in for 7 consecutive days, unlock the event stage by stage and complete all missions to obtain tons of in-game items, SSR Cases, and SR sets! This event will remain available till all missions are completed. Come collect points and redeem deluxe items!
Download link: https://yzdpjgameglobal.onelink.me/U1T4/x689h9fk
Official website: https://echocalypse.gtarcade.com/en/main
Twitter: https://twitter.com/Echocalypse_SEA
Facebook: https://www.facebook.com/EchocalypseSEA
Youtube: https://www.youtube.com/channel/UCaq43n2mAyODCLXTrY-zmAw
Discord: http://echocalypse.com/discord