YOOZOO Japan Enters Top 25 Games Publishers in The Region
06/09/2020
June 9th 2020, Sensor Tower's monthly report has placed YOOZOO Japan in the top 25 publishers in the region, based on monthly revenue. In its first month of launch, YOOZOO Japan's Junior Three Kingdoms 2, representing the traditional Chinese culture of the Three Kingdoms, was on the top 25 best-selling list.

Prior to this news, YOOZOO Japan has already released a number of successful titles including Stella Arcana, with Nariagari scheduled for release later this year.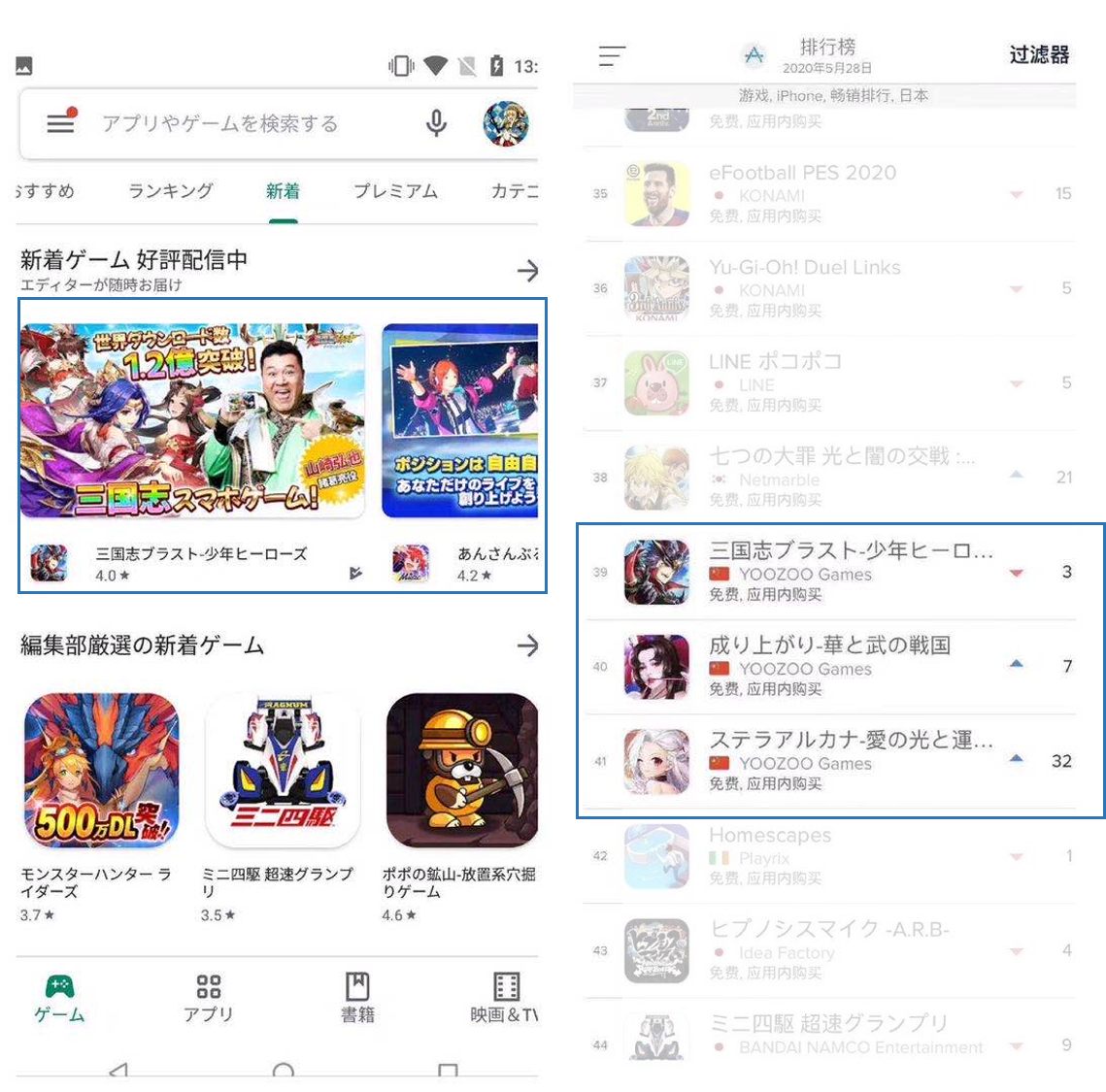 On the left, the Google Play Japan Store's recommendation of Junior Three Kingdoms 2. On the right YOOZOO Japan's three games all on the Apple App Store rankings
Lin Qi, Chairman and CEO of YOOZOO, added: "Japan is one of the most important cultural and entertainment markets in the world. We have always attached great importance to this market. In the future, we will further increase our investment in the Japanese game market and cultural industry. Relying on Chinese culture and IP, we will continue to create phenomenal games and cultural products, promote friendly exchanges between young people of the two countries, and establish a century-old foundation of diplomatic relations between the two countries."
Earlier this year Forbes World Records announced that the Junior Three Kingdoms series, developed and published by YOOZOO Games, has set a world record for Most Popular Three Kingdoms Trading Card Game Brand ever.
* * * * * * * * * *
About YOOZOO Games
YOOZOO Games is a global entertainment company specializing in game development and distribution. The company is headquartered in Shanghai with offices across Asia, Europe, and the US. Since its founding in 2009, YOOZOO has forged a strong global distribution network and launched over 40 highly successful titles including Game of Thrones Winter is Coming, the League of Angels series and Saint Seiya Awakening: Knights of the Zodiac.