Yoozoo Games Reaches an Agreement about IP linkage with Ubisoft for LOD and Assassin's Creed IP
02/01/2018
On February 1, 2018 Beijing Time, Yoozoo Games announced a cross-promotion agreement with Ubisoft for several iconic characters from Assassin's Creed to make special appearances in the Furious Wings fantasy ARPG. Ezio is scheduled to be the first character to appear in the foreign edition of Legacy of Discord-Furious Wings next week.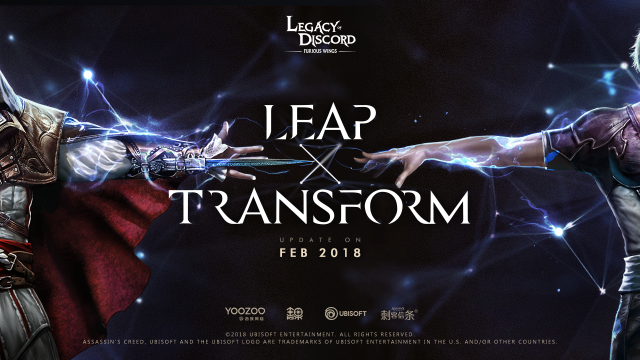 Cross-IP promotion between "Furious Wings" and "Assassin's Creed"

Developed by Ubisoft Montreal, the Assassin's Creed series features tight stories and sophisticated graphics to inspire a sense of adventure and the thrill of combat. The title has garnered legions of fans worldwide since early 2007 and sold over 100 million copies.
Ubisoft Mobile Game Publisher and VP of Licensing Aurelien Palasse on the cross-IP promotion between Furious Wings and Assassin's Creed: "As a brand, Assassin's Creed boasts fans all over the world, and China is no exception. Ubisoft and Yoozoo are working together in China, but we're taking aim at the world. Players of Furious Wings can now adopt several of the most iconic Assassins for their character avatars. We're working closely with Yoozoo to provide this exclusive content. This will not only please avid Assassin's Creed fans, but introduce it to players unfamiliar with the game, and hopefully they will fall in love with the brand."
Furious Wings is a 3D battle-oriented mobile ARPG developed by Smart Fruit and released worldwide through Yoozoo Games. Relying on Yoozoo's regionalized and intricate global system as much as mesmerizing graphics, multiple game modes and thrilling actions, the game has become the hottest selling title abroad since its release in November, 2016. It also made the domestic best-seller list more than 50 times, racked up acclaims from Apple WWDC, Dream It Possible and other events, and was touted as a Top 10 Chinese Game Abroad by the CGIAC.
In this officially licensed system, Furious Wings players can become assassins from AC and stalk the wilderness, dungeon and various other settings, use special assassin abilities, feel the stunning effects of explosive attacks and lethal blows--all of which push the envelope of gaming experiences.
Yoozoo values the importance of top global licenses, having acquired the Chinese regional right to the popular Japanese game, Touken Ranbu: ONLINE, as well as the license to adapt Game of Thrones for mobile gaming. In October, 2017, Yoozoo cross-promoted Junior Three Kingdoms and the "Demon Tail" Japanese anime throughout Japan. Liu Wanqin, Yoozoo Games VP and Head of Foreign Distribution, said the company's release network covered more than 190 countries and regions, and it will continue its strategy to both globalize IPs and acquire major licenses, developing partnerships worldwide in licensing, operations and gaming events.